Tourist Information
Our hotel staff introduce you sightseeing spots around the hotel.
Kagami Temmangu Shrine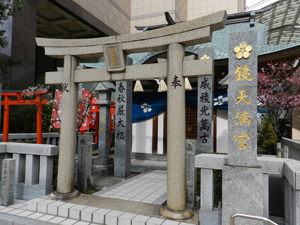 It is said that when Mr. Michizane Sugawara who is famous as a scholar and politician arrived at Hakata, he saw himself by the mirror. Because the shintai (object of worship housed in a Shinto shrine and believed to contain the spirit of a deity) is the mirror, people say Kagami (=Mirror) Shrine. It is in Hakata Riverain.
Directions

7 minutes on foot
Kushida Shrine
It is a shrine which collects faith as a local tutelary deity or a guardian god of Hakata since early times. Festival such as "Hakata Gion Yamagasa" and "Hakata Okunchi" is famous. A decorative Yamagasa is permanently displayed here. From the people of local Hakata is called "Okushida-san" nicknamed.
Directions

7 minutes on foot
Kego Shrine
The shrine was built in the present place by Fukuoka castle owner Kuroda Nagamasa in 1608. An adjacent "Kego Park" is an oasis for the Hakata citizens.
Directions

6 minutes on foot
Shikaumi Shrine
Shikaumi Shrine is in Shikanoshima, a shrine that has appeared in "Nihon Shoki", "Kojiki" and "Manyoshu".Be sure to make a brief stop at this shirine when you drive Shikanoshima.
Directions

45 minutes by car


Sumiyoshi Shrine
Along with Sumiyoshi Taisha of Osaka and Sumiyoshi Shrine of Shimonoseki, this shrine is one of Japan's three major Sumiyoshi Shrine. The main shrine was rebuilt in 1623 by Nagamasa Kuroda and is designated as an important cultural property of the country.
Directions

8 minutes on foot
Suikyo Temmangu Shrine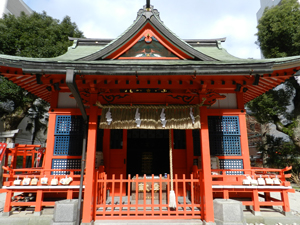 This shrine is relational to Mr. Michizane Sugawara who is called the god of academics."Tenjin" means Mr. Michizane Sugawara, and the place name of "Tenjin" in Fukuoka city comes from this Temmangu.
Directions

5 minutes on foot
Shofuku Temple
Famous for Japan's first full-scale Zen temple. Inside of the temple is designated as a national historic site, and there are the temple gate and the buddhist sanctum.
Directions

13 minutes on foot
Dazaifu Temmangu Shrine
"Umegaemochi", the baked rice cake named after the plum, is very popular. This shrine worship the god of academics "Mr. Michizane Sugawara", and it's crowded all the year round with the people those who pray for the success in school achievement.
Directions

40 minutes by train


Railway Shrine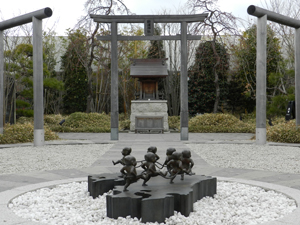 One unusual shrine on the roof of the Hakata Ekimae building. There are plenty of space for children to play.
Directions

12 minutes by bus


Tocho Temple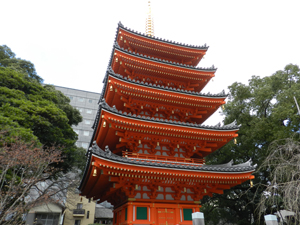 National important cultural properties. "Fukuoka Big Buddha", "Hexagonal temple" and "five-storied pagoda" is a must-see! It is also a family temple of the Kuroda family.
Directions

12 minutes on foot
Hakozaki Shrine
Along with Iwashimizu Hachimangu in Kyoto and Usa Shrine in Oita Prefecture, this shrine is one of the three major Hachimangu Shrines in Japan. It's also famous that sports team such as Fukuoka Softbank Hawks based in Fukuoka, Toyota Motor Kyushu Athletics Team and Avispa Fukuoka, Rising Fukuoka come to pray the winning.
Directions

21 minutes by train